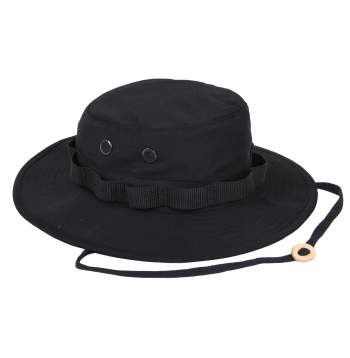 Want to become a Rothco Dealer?
Rothco's Classic Military Style Boonie Hats are functional & fashionable and made to government specifications.
Boonie Hat Is made to government specifications In a Durable Yet Lightweight Cotton, Polyester Material
4 Screened Side Vents Aids In Ventilation and Temperature control
Branch Loops Woven Into The Sides Can Be Utilized for Adding Leaves and Branches for Camouflage
Rothco's Boonie Hat Provides Optimal Protection From The Sun And Is Great For Hunting, Fishing And/Or Camping
adjustable chin strap
Available In A Variety Of Colors And Sizes
Poly/Cotton, 55% cotton 45% polyester





Write a Review
These are hot sellers and actually pretty well made! No, not Mil-Spec, but even a few vets have been fooled by the green tag on the inside. So yeah, heck of a deal for the price. They sell all day at MSRP.
This is a good boonie hat. It's light, cool and gives very good protection from the sun. I rate it 5 stars.