May 15, 2021 12:00 pm
"Armed Forces Day is celebrated on the third Saturday in May. President Truman led the effort to establish a holiday in order for citizens to unite and to honor our military heroes for their patriotic service in support of the United States of America." Credit: Military Benefits See Post
May 15, 2021 1:03 pm
"Armed Forces Day is celebrated on the third Saturday in May. President Truman led the effort to establish a holida… See Tweet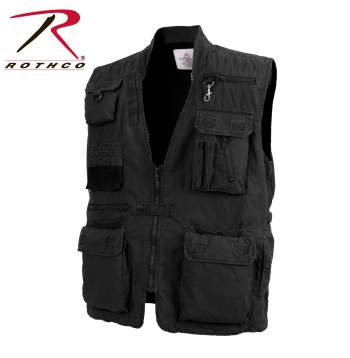 Want to become a Rothco Dealer?

Rothco Deluxe Safari Outback Vest features 18 pockets with endless possibilities. Ideal for the avid outdoors man this versatile vest also features a stonewashed cotton, mesh lining, vented back, zip front with snap closure.





Write a Review
I am not a small person at 6-2, almost 300 lbs. This vest fits me and my needs very well. I use it while traveling outta the country. put everything in it, throw it through the airport xray machine,put it back on and continue without even breaking stride. large front pockets large enough to hold a large paperback novel. My only complaint is losing stuff because theres so many pockets. My fault I guess. All in all a great, durable buy. 2 yrs in Afghanistan,and a Rome trip, and still going. Thanks for a great product.