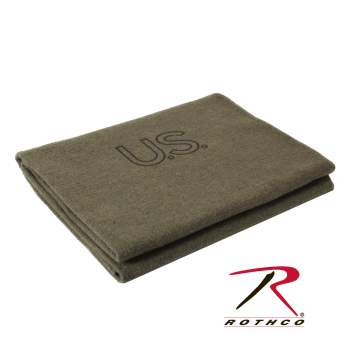 Want to become a Rothco Dealer?
Great for camping, backpacking and survival preparedness Rothco's U.S. Made Wool Blanket is 70% Virgin Wool provides unbeatable warmth and protection from the elements.
62" x 80" Wool Blanket
70% Wool 30% Synthetic
Made In The USA
Wool Blanket is Naturally Fire Retardant
U.S Stamped On Blanket
Dry clean or machine wash one blanket at a time in cool water and mild soap using gentle cycle add fabric softener to final rinse. Line or tumble dry on gentle lowest heat setting brush lightly to restore fluffiness.





Write a Review
Not exactly military spec. This blanket is not as durable as the current issue blanket.
This is an excellent blanket. I own three of them. I use them under my sleeping bag for extra protection from the ground. Otherwise I keep them in reserve for emergencies. Very thick (about 1/4 inch). I bought mine from a local surplus store so I was able to see and touch before purchasing.
This blanket is really not meant for everyday use. It is see through at some points and easily tears under regular use.This would be better used as a survival blanket but certainly not every night.