September 28, 2021 12:34 pm
Cold Air, Dark Nights, Warm Fire, Bright Stars. These are a few of my favorite things # #… See Tweet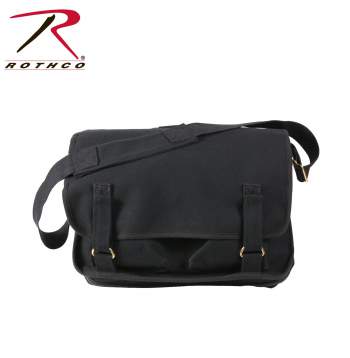 Want to become a Rothco Dealer?
This versatile shoulder bag has an adjustable shoulder strap with top grab handle, 2 interior compartments and one main expandable compartment, 2 interior pockets, zipper exterior flap pockets, gold plated d rings for flap closure & snaps for small pockets, and it comes with a 12" ruler. This shoulder bag is ideal for school or work and has tons of room for it to work as a EDC or BOB.
15 inches X 11 inches X 8.5 inches ,





Write a Review
i have had this bag since August this year and have been using it every day for school, travel, and outdoor stuff. I am very pleased with the use i have had with it so far. It came with a single place where the stitching failed, but it was repaired with sewing. for those worried about the Velcro, it doesn't open easily until very late on as it has started doing recently. the strap of the bag has started fraying and needs replacement soon, as does the bottom-back edge of the bag. so this bag is not super durable simply because the material isn't very durable. but overall, I would consider this for someone who would like a messenger bag but isn't willing to buy a very expensive one.
I absolutely love this bag. It's very affordable and the quality is outstanding. The canvas is firm enough so that the bag doesn't collapse easily, there are several convenient pockets, the expandable side zipper is great, and it comes with a ruler which my customers love. The only thing I would change are the velcro tabs on front; they work very well but I would like to see a clip or snap option so that the whole front flap is available for screen printing space. Regardless, this is a five star piece for it's value to cost ratio.